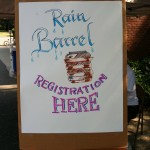 A few years ago, when we set out to get involved in making Rain Barrels and selling other Home and Garden products at Metro-Detroit Green Fairs, we never thought it would turn out so incredibly well. The community involvement with green fairs, charities, school and churches has helped shape our business, continuing over a hundred years of Rubin family involvement in the drum and barrel industry. Now, at Maxi, as the summer comes to a close, so does a chapter of our lives. The Green season is over, there no more events until next Spring/Summer. We all set our sights on the numerous things we have neglected due to the hustle and bustle of the season. We won't be hibernating this winter, but a part of us will. The Green part.
I thoroughly enjoyed all of the events we were involved in (a list is provided at the end of this post). However, certain moments, or days, stand out when looking back from the corner of the autumn and winter seasons. I want to share my favorite "highlights" from this summer with all of you.
Two tents down! Currently, both of our tents need repair. One, we have no idea what happened to, and the other a storm almost swept away! At the St. Clair Shores Green Fair in the Park it was a beautiful day until warnings of a oncoming storm started to spread across the fair (since the Dream Cruise was happening on Woodward Ave. simultaneously, we just checked their twitter feed) Even though the vendors and patrons were advised to leave a little early in hopes of missing the brunt of the storm, we were among the last out of there, and our tent nearly didn't make it out at all. I went to grab the truck for our final load of Rain Barrels, and when I arrived to our location I find my father (Richard) holding onto a tent that was in shambles. He looked like he was holding onto it for dear life, in high winds and heavy rain. This was a very intense end to a great event.
HOT, HOT, HOT! All of you remember that heat wave in June? Well we can't forget it. We had three events planned almost simultaneously for that weekend of heat. Friday I spent in Armada while the rest of the Maxi staff was at the Ferndale Live Green Fair. I guess this is one time I lucked out, since at the Lavender Festival in Armada we had a location in the shade and the fair was on grass, not pavement. The staff at the Live Green Fair said it was sweltering hot as the intense sun reflected up from the ground. Also, the way the booths were set up didn't allow a lot of airflow. On Sunday, I made my way to Ferndale, my father and I did the best we could, but I was definitely suffering during tear down, and was afraid I was going to pass out. My Dad had to stick me in the car with the AC on to get me to stop acting loopy. I am pretty sure I was a second away from heat stroke.
We enjoyed all of the events this year, these two weekends were exceptionally interesting, check out the list below for all of our events this year, and watch out for even more next year! Hope to see you next summer at some of our Green Events!
I tried to remember them all and hopefully, got them all of them here. Click on each to learn more. This list doesn't include all of the Rain Barrel workshops we have done, just a few of them.
If you know of an event in Metro-Detroit (really anywhere in Michigan) that you would like us to bring our sustainable living setup including Rain Barrels, Composting, and Container Gardening, please let us know. Drop me an email at joshua@maxicontianer.com with the details.
Enjoy this slideshow of photos from our "Green Fairs" Collection of photoset's on Flickr!
FPX - 3
FPX - 5
Maxi Sales Team
Blue fountain
Stage
Rainy days, we were all smiles
Grassroots!
We were busy with lots of people
GLFF movie - 1
Our tent
The big tent
Container Garden display
Doggie - 1
Doggie - 2
Tent setup
Grassroots Green Marketplace!
Very busy streets!
GLFF movie - 3
Our spot
bob