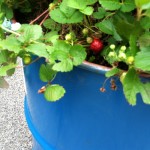 On August 31st, Compuware debuted its newest creation (and it's not software) Lafayette Greens, an urban garden located at the old Lafayette building site, which was demolished in 2009. The community garden will provide all organic produce for Gleaners Community Food Bank (and if there is an over abundance of produce, it will go to the volunteers too!). The garden will be maintained almost entirely by a volunteer workforce. I was fortunate enough to join them for the grand opening celebration.
This initiative is run by Compuware employees Gwen Meyer (onsite manager) and Meg Heeres (project manager). We had the pleasure of meeting them during the development of the garden, consulting on the design types possible with our containers. They eventually had to resort to custom made beds for the majority of the garden, but still utilized our drums in the "Children's Garden". In this section our used juice drums were placed in a circular design which is lower to the ground so kids can interact with the plants better. It has a very "zen" feel to it.
The event was spectacular, samples of gourmet cuisine made from fruits and veggies grown in the garden were being passed out. Free drinks (non-alcoholic) and lively music was playing. The news obviously was informed about this event, I think I saw one person from every major local station there! This event was well planned. I enjoyed my afternoon there, though I mostly just hung out in the Children's Garden where our containers where displayed.
They also are utilizing one of our compost tumblers, though I don't think a single tumbler will be able to supply the entire gardens needs. The footprint of the garden is the entire corner, it's pretty big. I urge any and everyone who is in the downtown Detroit area to go in and check it out!
We are so happy to be involved in the beautifying of Detroit with Compuware. At Maxi, we are dedicated to getting involved in our community and the amount of gardens going up in Detroit this year was amazing. We urge others to develop community gardens and work together to turn vacant lots into functional and beautiful gardens. This is the green movement and companies like Compuware and Maxi, and people like Gwen and Meg are what our city needs. Take a moment to check and see if there are any projects planned for your community.
Enjoy this slideshow of pictures from Compuware's Lafayette Greens Community Garden. You can view these photos on our Flickr as well.
[slickr-flickr search="sets" set="72157627569688870″ type="slideshow" captions="on" delay="3″]
Lafayette Greens is on Facebook!