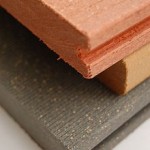 New technology is one of the biggest catalysts for our economy, always has been and always will be. Right now, scientists in China have been introducing cleaner and greener tech, which creates fewer by-products while saving money. These new technologies are coming at the right time, when costs for fuel are higher than ever and companies are looking for ways to reduce costs. Taking all of this into consideration, these scientists have been working on a new composite material made from wood and plastic that will be better for the environment, create no harmful by-products, be stronger than traditional recycled plastic and (supposedly) cheaper! What is there to lose? Many industries, such as the automobile and textile, have already started adopting this tech in China. Soon it will be ready for the world. To break it down further, I have created five little sections below that explain the Wood Plastic Composite (WPC) and how it will change these industries and why it is better and more desirable than just recycled plastic on it's own.
Humans are wasteful; it's in our nature. Luckily, we also are smart enough to develop new technologies like WPC. Now the smaller branches of trees, saw dust and other waste wood pieces, which otherwise end up in a landfill, can easily be turned into a composite material made by binding the wood with plastic polymers.
What does this mean for you? Maybe not much right now, unless you are in the market for a new deck (which the material is already being used for) but what it will lead to, is new a new material made from the waste. Reusing wood waste is inherently eco-friendly. However, the most ecologically minded aspect of this new tech is the end product itself. The plant fiber-based composite will reduce the cost of the production of wood while simultaneously reducing the industries negative impact on the environment.
Who came up with this great idea? Scientists from the Institute of Wood Science and Technology (IWST) developed the technology in China.  Many people are already importing this technology from China. When asked about the possibilities of this new material, Dr. Ajay Karmarkar, a scientist working on the project with IWST said,
"The experiment was being conducted for the past 10 years and finally we came to a conclusion that the by-products can be used by automobile, packaging, and textile industries. Plastic hangers and buckets, wooden door frames and windows can be replaced by this ecofriendly composite material."
What are the advantages? Once plastic is recycled, its usage becomes less because it loses stiffness.  WPC will increase stiffness by 70% and at the same time, be 50% less expensive than it's traditional wood counterpart. Plus, during the manufacturing process, the only by-products that are created are 100% environmentally friendly.
How do they make WPC? The process takes fibrous material from wood, bamboo and jute, mixes it with the plastic polymers and run it through the twin-screw extruder. This machine melts, mixes and pumps the product. This by-product is then put into a pelletizer, which chops it up into tiny granules. To get the desired size and shape the granules are put into the injection-moulding machine next. Finally the WPC is put through tensile stiffness and compression strength testing.
Since being debuted WPC has won over many industries, ones which welcome the idea of new technology. The benefits for the environment and production are numerous and the overall cost is lower.  Soon we hope to see WPC in more products all over the world. Maybe, it will even show up soon in our Industrial Packaging.
Original Source: Luna Dewan, The New Indian Express

Supreme's WPC Quotation
WPC Presentation - Question Time
Supreme Project Manager - Serene
Supreme Project Manager - Serene
WPC Presentation - Sample Looking
WPC Presentation - Sample Looking
WPC Presentation
WPC Presentation
Series 3 Laminate
Series 3 Laminate
Series 3 Laminate
Thin layer of natural timber
Series 3 Laminate-Texture
Series 3 Laminate
WPC-Ash Wood Colour-Texture
WPC-Ash Wood Colour
WPC-Ash Wood Colour-Texture 2
WPC-Ash Wood Colour-side 2
WPC- Wood Colour - Texture 2
WPC- Wood Colour - 2nd side