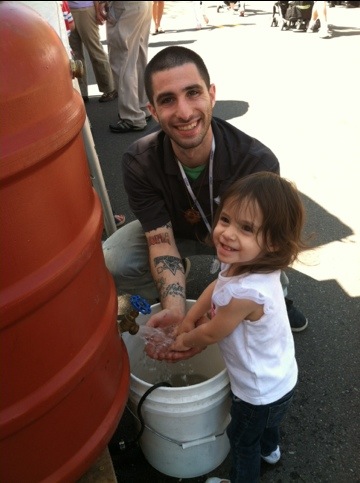 Boy, have we been busy. Rain Barrel Season started early and the response has been overwhelming. On April 14, 2012 we partnered with the Sierra Club Great Lakes Program and the Detroit Riverfront Conservancy to host Rain Barrels on the Riverfront. Over 100 participants used Maxi Container's Rain Barrel Kits to build their own Rain Barrels.
A week later, April 21 and 22, we were at the Grosse Pointe Live Green Fair, were our own Joshua Rubin was interviewed on Fox 2 News about our rain barrels. After the interview, people were waiting at our booth to purchase our repurposed rain barrels.
Upcoming events include, Chelsea Live Green Fair, May 19 and 20, Rochester Green Living Festival, June 22, 23, and 24, Wyandotte Green Live Fair, July 11, 12, 13, and 14, The Lavender Festival, July 13, 14 and 15 and the Farmington Founders Festival July 20 and 21, 2012.
April 28, 2012 found us at St. Paul's Presbyterian Church in Livonia hosting a Rain Barrel workshop. Part of the proceeds were used to benefit St. Paul's community outreach garden initiative to "Feed the Hungry." Over 20 people participated and went home with their Rain Barrel helping to raise money for their community garden and to help protect the Great lakes by reducing pollution caused by Storm Water run-off.
May 4, 5, and 6th found us at the Plymouth Green Street Fair. This is usually one of the better green events and this year's did not disappoint. After gloomy weather on Friday, Saturday and Sunday were bright and sunny, bringing thousand of people to Downtown Plymouth. In the past two years, we sold out of rain barrels at the Plymouth Green Street Fair, so we made sure to have extras. Interestingly, while we sold more rain barrels then in years past, it was our compost tumbler that sold out. Another big hit was our rain barrel stands made from wood reclaimed from used wooden pallets. We also introduced RainSaucers and our up-cycled steel drum benches.
We had a wonderful time at all of these events interacting with people interested in rain water harvesting and protecting our environment. If you have an event our are interested in setting up a fundraiser for your non-profit group, feel fee to give us a call at 1-800-727-MAXI or contact me at rick@maxicontainer.com.
Tags: events, Green, Green Fairs, grosse pointe, Plymouth, rain barrels, RainSaucers